2018 Mid-Year Review. Who are the winners so far?
In this edition of Value Reports we identify and examine the Top 10 Winners of 2018, ranked by the highest returns and the biggest gains in market capitalization.
Using the Economatica system we discovered nearly 500 stocks which traded, on average, over $100 million dollars per day in the first half of 2018.  We then ranked this impressive group of stocks by the highest returns to identify the Top 10 Winners in this category.
Topping our returns table is Sarepta Therapeutics, which rewarded shareholders with a return of 137.56% in the first 6 months of 2018. Weight Watchers took second place, producing a 128.32% return. Abiomed placed third in our Top 10, generating a 118.26% return.
Top 10 winners by return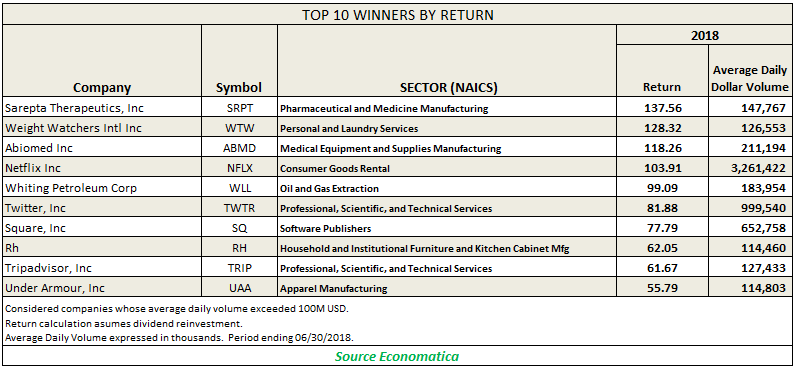 We also used the Economatica system to identify the Top 10 Winners by market cap among this group of 500 highly traded stocks, those stocks whose average daily volume exceeded $100 million dollars.
Taking the top spot is Netflix, which has seen an increase of 104.82% in market cap this year. Whiting Petroleum increased its market cap significantly as well, increasing 99.6%. Worlday, Inc. took third place in this category, whose market cap has grown 95.47% so far this year.
The stocks which had the biggest gain in market cap appear on the table below.
Top 10 winners by market cap gain

A close examination of both of these rankings reveals 7 stocks that made both Top 100 Winners lists. The 7 stocks which had the highest returns and the biggest gain in market are Netflix, Whiting Petroleum, Twitter, Square, Rh, Tripadvisor and Under Armour.
Economatica is an online investment research platform designed to facilitate deep fundamental and quantitative analysis. Asset managers, analysts, and other investment professionals have used Economatica for more than 30 years to research securities, identify opportunities, and make better investment decisions. To learn more please contact us.