Corporate Debt continues to Rise
Corporate Debt Levels in review
This Value Report highlights the rising debt levels of corporations in the US.
We used the Economatica system to examine the Net Debt to EBITDA ratio and discovered Debt continued to rise at a faster pace than Earnings over the past  year. We compared the results of 2,000 companies that have published their 1Q2018 financial statements to their results 1 year ago.
The ratio Net Debt to EBITDA becomes a key indicator to watch closely at a time when interest rates are rising.
The three key sectors which top this ranking are Utilities with a Net Debt to EBITDA ratio of 4.3 times, Real Estate and Rental and Leasing with 3.8 times, and Health Care and Social Assistance coming at 3.4 times. The sector with the greatest increase in its Net debt to EBITDA multiple is Wholesale Trade, consisting of 68 participants, its median increased from 1.8 to 2.8 times, representing a 56% increase versus a year ago.
Only 3 of the 13 sectors highlighted in this report exhibited an improvement in the multiple. Mining, Quarrying, and Oil and Gas Extraction improved from 2.6 to 2.3 times, Information improved from 1.8 to 1.6 times, and finally Professional, Scientific, and Technical Services posted a healthier multiple of 0.1 versus 0.5 times a year ago.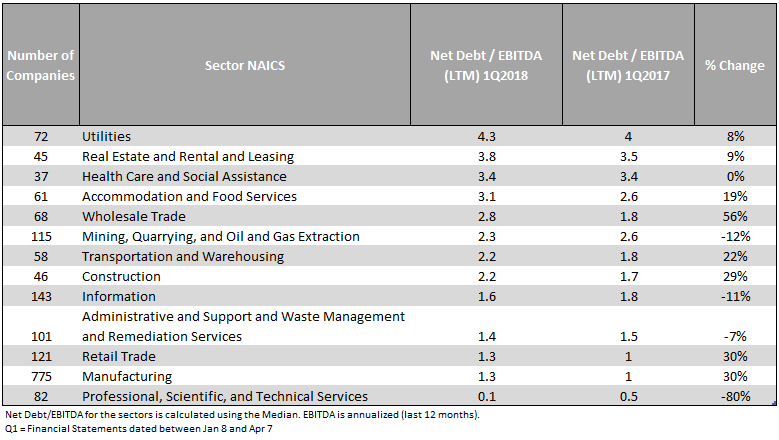 We also used the Economatica system to produce a ranking of the companies with the greatest increase in Net Debt in absolute value over the past 12 months. A household name, Johnson & Johnson tops the list with an increase of 24B in net debt. Centurylink and Amazon follow with increases amounting to 17B and 14B respectively in the 12-month period.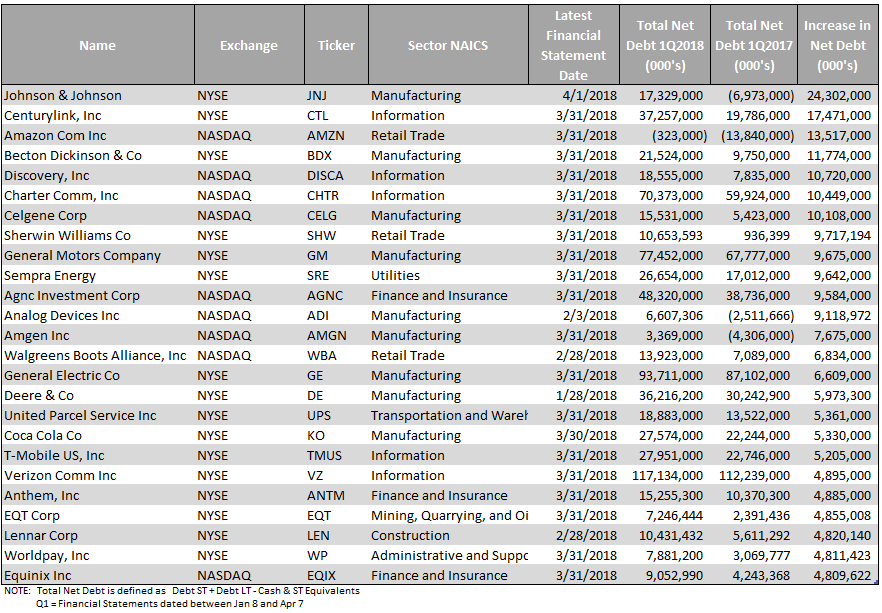 Economatica is an online investment research platform designed to facilitate deep fundamental and quantitative analysis. Asset managers, analysts, and other investment professionals have used Economatica for more than 30 years to research securities, identify opportunities, and make better investment decisions. To learn more please contact us.