S&P 500 Sector Dividend Yield versus 10-Year Treasury Yield
This value report compares the dividend yield of the various sectors of the S&P 500 with the 10-year Treasury Yield
We used the Economatica system to examine the relationship between the 10-year bond yield and the S&P 500 dividend yield currently and over the past few years.
The data we've gathered reveals 7 sectors in the S&P 500 have dividend yield higher than the current 10-year bond yield. The sectors Paper Manufacturing (3.7%) – Funds, Trusts, and Other Financial Vehicles (3.64%) – Beverage and Tobacco Product Mfg (3.3%) – Utilities (3.16%) – Petroleum and Coal Products Mfg. (3.12%) – Electrical Equip, Appliance, and Component Mfg. (3.12%) – and Clothing and Clothing Accessories Stores (2.83%) are posting dividend yields with spreads ranging from 96 bps to 8 bps over the current yield of the 10-year bond (2.74%).
Every other sector examined in the S&P 500 has a median dividend yield below the 10-year bond yield.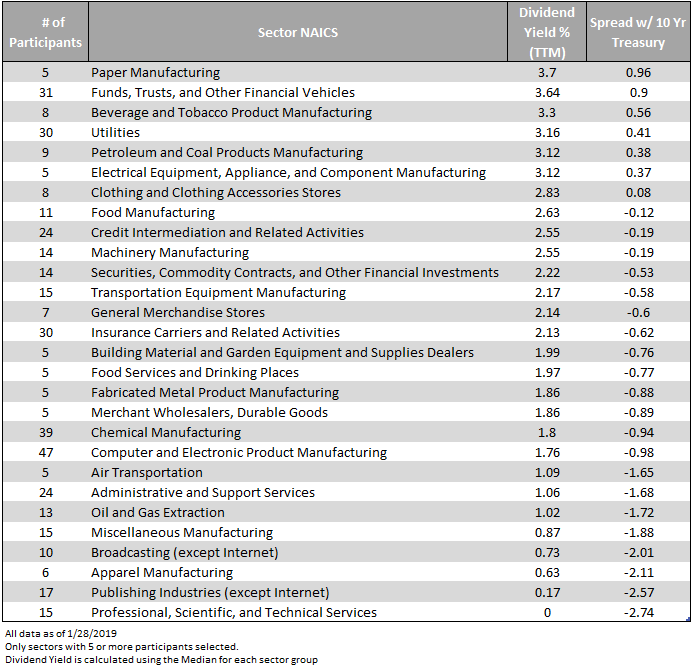 The chart below highlights the different points over the last 8 years in which the yield-gap has inverted. It furthermore highlights how the spread gap is currently widening, and should the 10-year bond yield continue to trend higher, this could put downward pressure on equity prices.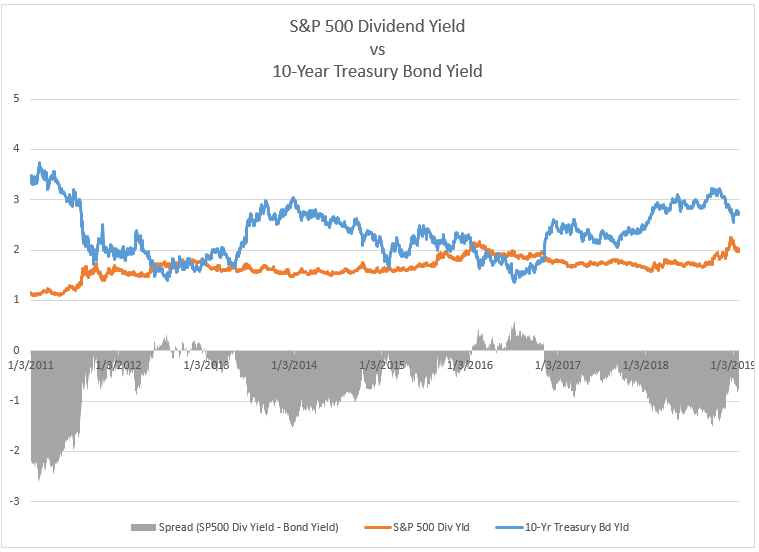 Economatica is an online investment research platform designed to facilitate deep fundamental and quantitative analysis. Asset managers, analysts, and other investment professionals have used Economatica for more than 30 years to research securities, identify opportunities, and make better investment decisions. To learn more please contact us.