Foreign Stocks: The Top 10 of 2017
foreign stocks Conclusions
Economatica identifies the most traded foreign stocks based on average traded volume in US dollars during 2017.
Taken as a group The Top 10 foreign stocks (selected out of 750 foreign companies traded on US exchanges) have performed outstandingly this year, dominating both volume and returns.
The median absolute return for the group is 37.01% while the median relative return is 15.86%. This is a very impressive achievement considering the S&P 500 posted a return of 18.26% through November 30.
Examining the stocks themselves we can see Asia dominates this group with 3 companies from China, 1 from Singapore, and 1 from Hong Kong.
The highest return spot is easily won by Alibaba, the leading global e-commerce giant, with an impressive absolute return of 101.66%, and a relative return of 70.53% (versus the S&P 500 index).
Only one stock has posted a negative return in absolute terms through November 30: Teva Pharmaceutical, an Israeli company, yielded a negative 57.73% return. On a relative basis, however, 4 stocks have posted negative returns for the period examined (see table below).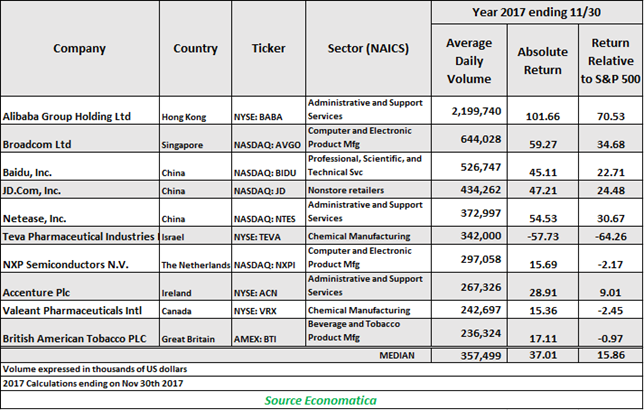 To illustrate the impressive performance of The Top 10 Foreign stocks we used the Economatica  system to create a basket containing the 10 stocks of these companies and charted it against the S&P 500 index. The chart below shows how the group has significantly outperformed the S&P 500 in 2017 (through November 30).
Note: Dividend reinvestment is assumed in the calculations and equal weights were assigned to the constituents.
You can use the Economatica system to generate your own observations, develop strategies, and make investment decisions. Ask us for a demo and we'll show you how.