Market Value: Blue Chips suffered Major Losses
Market Value conclusions
Using the Economatica system we examined companies who sec is greater than $10 Billion and discovered some heavy hitters that were particularly hard hit last week.
The S&P 500 fell 5.8% last week, in what amounted to its biggest loss since January 2016.
Using the Economatica system, we filtered the universe of companies traded on US exchanges for those whose market value is greater than $10 billion. We then ranked these companies by the percent decline for the week and identified 20 stocks in the group suffering declines of 10% or more.  12 of these companies are listed on the NYSE while the 8 others are traded on NASDAQ.
Among the list of notable decliners, Alphabet (Google), Facebook, Oracle, and AbbVie had the biggest declines in market value. Alphabet dropped a whopping $77 billion in market value,
Facebook followed closely with a loss of approximately $75 Billion, Oracle declined nearly $31 billion, and AbbVie lost almost $26 billion in market value.
Furthermore, General Mills, Dish Network, and Molson Coors all hit new 52-week lows on Friday, March 23rd.
All together this group of 20 companies lost over $260 Billion dollars this past week alone.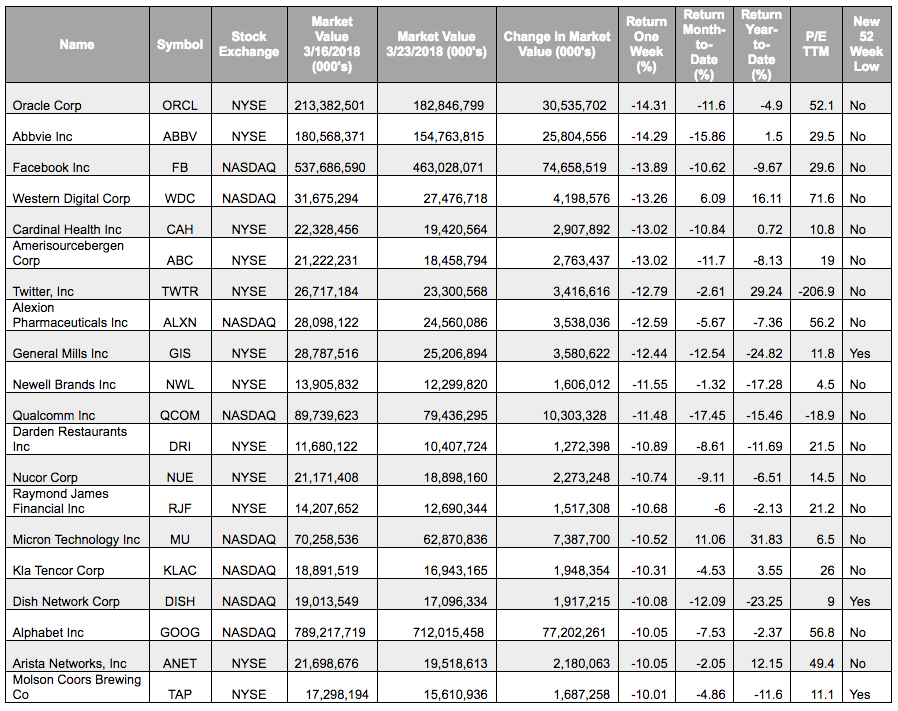 Although these losses cast the majority of these companies into the red with respect to both Month to Date and Year to Date Returns two companies managed to stay positive: Western Digital's MTD Return was 6.09% and its YTD Return is 16.11%; and, Micron Technologies' MTD Return was 11.06% and its YTD Return is 31.83%.
And, four companies' YTD Returns, including AbbVie which again lost nearly $26 billion last week, also stayed positive amid the tremendous losses suffered by this group. These were Twitter (29.24%), Kia Tencor (3.55%), AbbVie (1.5%), and Cardinal Health (0.72%).
The Economatica system offers a range of sophisticated analytic tools and financial data on an easy to use online research platform that empowers asset managers, analysts, and other investment professionals who conduct fundamental and quantitative analysis. Ask us for a free trial today!