Most Popular Foreign Stocks according to Trading Volume in 2018
In this edition of Value Reports, we explore the Top 25 foreign stocks ranked by Average Daily Volume YTD.
Taken as a group, the TOP 25 foreign stocks (selected out of 715 foreign companies traded on US Exchanges) have performed modestly, with the median for the group returning 4.88 so far this year, or negative 1.28 relative to the S&P 500.
When examining the individual stocks, the highest return spot belongs to Momo, with an impressive return of 65% and a relative return of 55% (versus the S&P 500 index). The second best spot belongs to XI Group with a return of 61% and a relative return of 52%. The third spot goes to Lululemon Athletica posting a 60% return and a 51% relative return.
On a volume basis, the most traded foreign stocks of the year are Alibaba Group, posting an average daily volume of 3.5 billion USD, Broadcom with 1.04 billion USD, and Baidu which traded 835 million USD on average YTD.
Alibaba's impressive average daily volume for 2018 is 5th in the US overall, only behind Amazon, Apple, Facebook, and Netflix.
To illustrate the performance of The Top 25 Foreign stocks, we used the Economatica system to create a basket containing the 25 stocks and plotted it against the S&P 500 index. The blue line represents the group, while the red line corresponds to the S&P 500 index.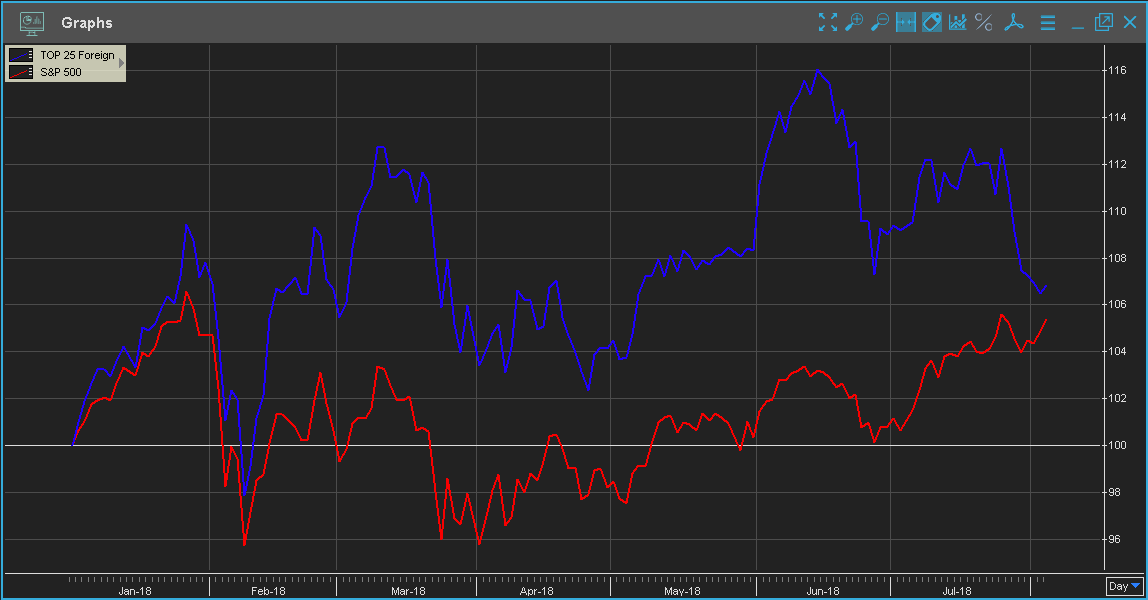 You can use the Economatica system to generate your own observations. Ask us for a free trial and see how Economatica can help you make better investment decisions.