Over 1 Trillion Dollars wiped out by 10 Stocks Alone
Recent selloff in the market leads to huge loses in these bellwether stocks
Using the Economatica system, we find the top 10 companies by market capitalization in the S&P 500 have lost 1.2 Trillion dollars since reaching their respective Highs this year.
To put this into perspective, it's worth noting the magnitude of this loss exceeds the total value of Apple at its all-time high of 1.12 Trillion dollars, reached on 10/3/2018.
If we examine the percent changes in closing price since their peak, Facebook tops the list with a whopping 39% fall since its all-time high on 7/25/2018. This is followed by Amazon and Apple with 27% and 23% drops respectively from their all-time highs.
Johnson & Johnson is the best performer in the group. In fact, it currently trades just off (-0.87%) its high for the year of 147.73 reached on 11/19/2018.
The table below shows the Top 10 companies by market capitalization and the change in value since the highs.

The major selloff in these bellwether stocks of course impacts valuation multiples. Using the Economatica system, we calculated the median P/E (LTM) for the group and the steady decline beginning on August 2018 is quite evident.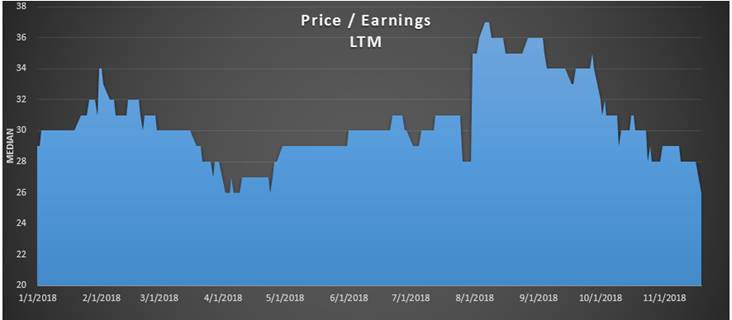 The Economatica system has sophisticated analytic tools and comprehensive highly reliable financial data giving investment professionals the flexibility needed to identify trends, uncover potential opportunities, and manage risk. Find out more.