Ranking of the Retail Sector by Revenues
Using the Economatica system we examined the top 20 retailers ranked by 2018 third quarter revenues
Comparing year-over-year results, we find that 19 out of the 20 retailers experienced growth in revenues. The only exception in the group is Rite Aid Corp, whose revenues dropped 32.8% in the last 12 months. When examining the bottom line, we find that 17 out of the 20 experienced growth in net income when comparing 3Q2018 with 3Q2017. The three exceptions were Walmart, CVS Health Corp, and Best Buy, which did not fare well and revenues dropped 59.2%, 38.3% and 11.9% respectively in the last 12-month period.
Amazon, the online retailer, is the leader on top line growth as it increased revenues by 37.1%. Even more impressive, its net income for the 12-month period increased a whopping 362%.
The biggest increase in net income for the 12-month period belongs to Rite Aid Corp, which posted an impressive 688.2% growth.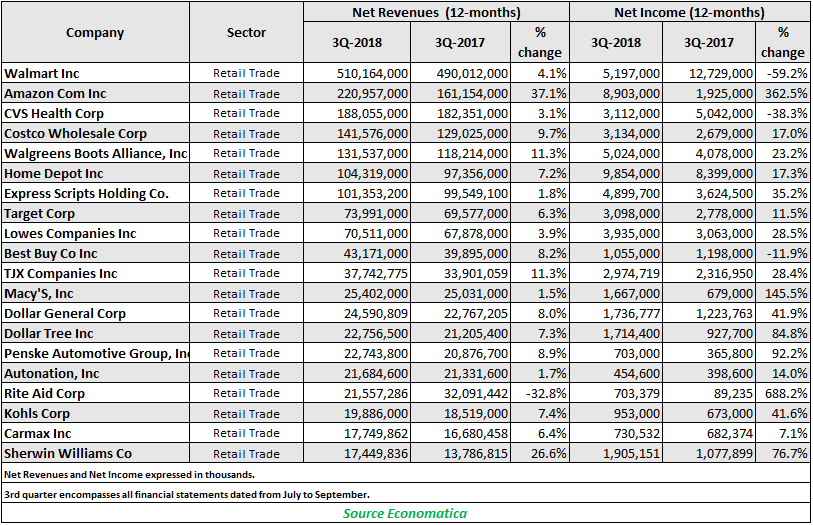 The chart below helps put into perspective how impressive Walmart's revenues are relative to the rest of the retailers, even when compared to Amazon. Walmart's revenues of 500B more than doubles the 220B posted by Amazon in second place.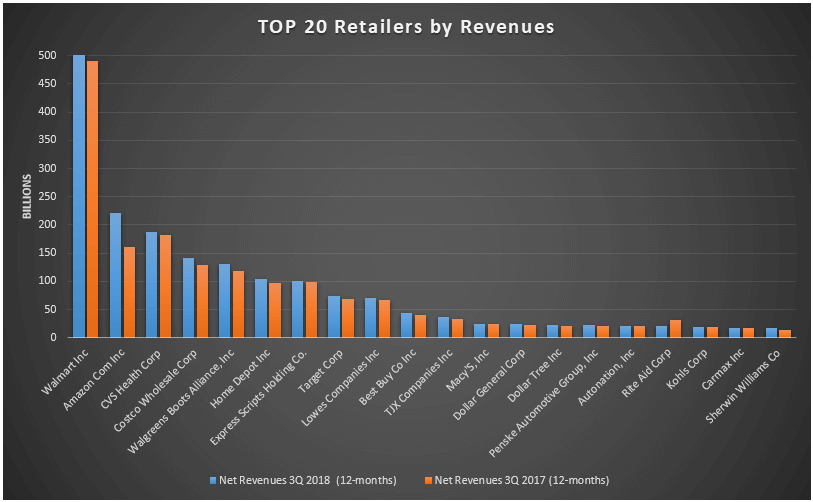 Economatica is an online investment research platform designed to facilitate deep fundamental and quantitative analysis. Asset managers, analysts, and other investment professionals have used Economatica for more than 30 years to research securities, identify opportunities, and make better investment decisions. To learn more please contact us.