Rising High Yield Dividend Stocks from 2018
In this edition of Value Reports we identify US stocks with dividend yield greater than 5% in 2018 and whose yield has grown in each of the last 3 years
We used the Economatica system to identify the stocks which provided shareholders with a dividend yield of greater than 5% in 2018 and whose yield actually grew in each of the last 3 years. And, for the purposes of this examination, we excluded REITs and stocks which paid out special dividends during the period.
Topping this high yielding group is Centurylink, with a dividend yield of 12.95% last year. The next two stocks which rewarded investors with high yields in 2018 are Stage Stores and Buckeye Partners L.P., with yields of 11.9% and 9.16% respectively.
When we estimate the forward dividend yield values for 2019 our assumption is the stocks will maintain the same dividend policy as 2018.
When we examine the projected values for these same stocks Stage Stores, Inc. may offer shareholders a yield of 27.03% should the company pay out $0.20 in dividend per share over the course of the next 12 months. The next two potentially highest yields go to Buckeye Partners and Centurylink, with projected yields of 15.65% and 14.26% respectively.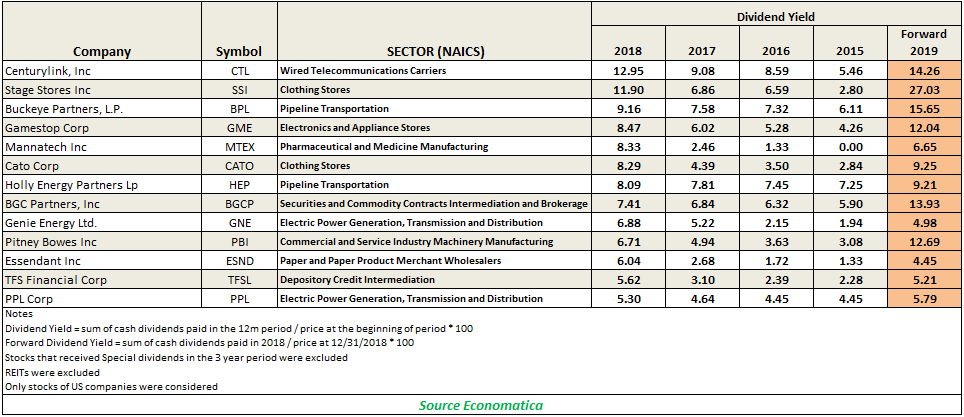 We also used the Economatica system to generate key metrics on these companies for further review.

The Economatica system offers a range of sophisticated analytic tools and financial data on an easy to use online research platform that empowers asset managers, analysts, and other investment professionals who conduct fundamental and quantitative analysis. Ask us for a free 14-day trial today and learn how to make your own observations.