The Most Traded Foreign Stocks YTD
Economatica identifies the most traded foreign stocks based on average traded volume in US dollars during 2018
Taken as a group The Top 25 foreign stocks have underperformed the S&P 500 this year. The median absolute return for the group is -9.23% while the median relative return is -11.93%.
Examining the stocks themselves we can see Asia dominates this group with 7 companies from China, 1 from Singapore, 1 from Taiwan, and 1 from Hong Kong. The highest return spot is easily won by Lululemon Athletica, the Canadian athletic apparel retailer, with an impressive return of 79.58%, and a relative return of 74.24% (versus the S&P 500 index). The second best performer based on return is Momo Inc., the Chinese software publisher, posting a return of 46.12% and a relative return of 41.78%. The third spot is held by Shopify Inc., the Canadian e-commerce firm, posting a return of 39.53% and a relative return of 35.39%.
On the other hand JD.com, the Chinese e-commerce firm, is the worst performing stock in the group with a return of -43.02% and a relative return of -44.71%.
The table below ranks the top 25 foreign stocks by 2018 average daily volume in US dollars.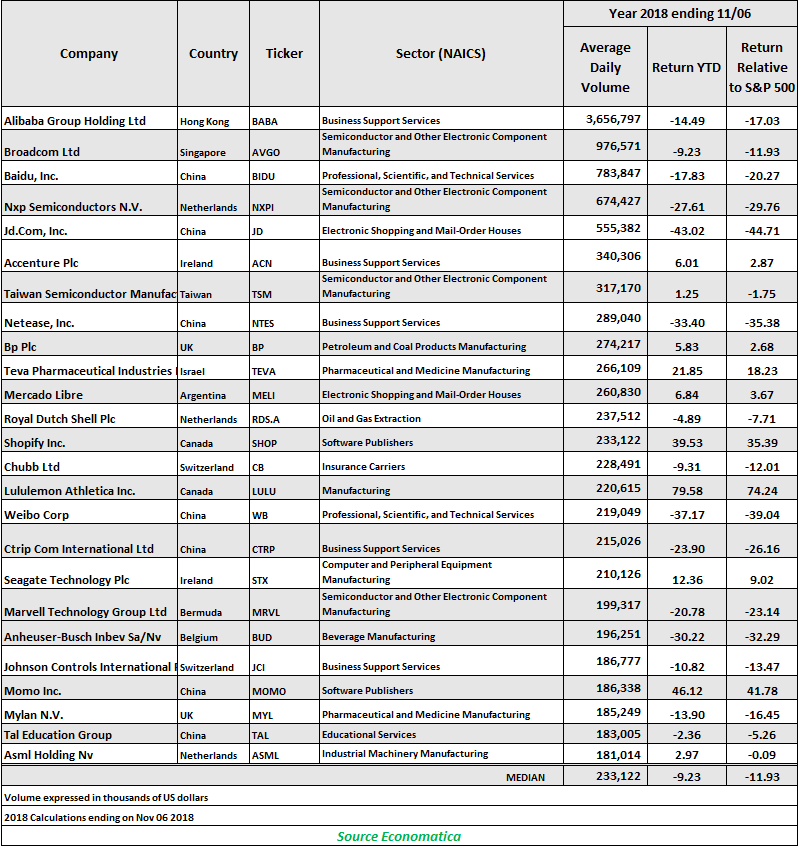 To illustrate the performance of The Top 25 Foreign stocks we used the Economatica system to create a basket containing the 25 stocks of these companies and charted it against the S&P 500 index. The chart below shows how the group performed poorly compared to the S&P 500 in 2018 (through November 06).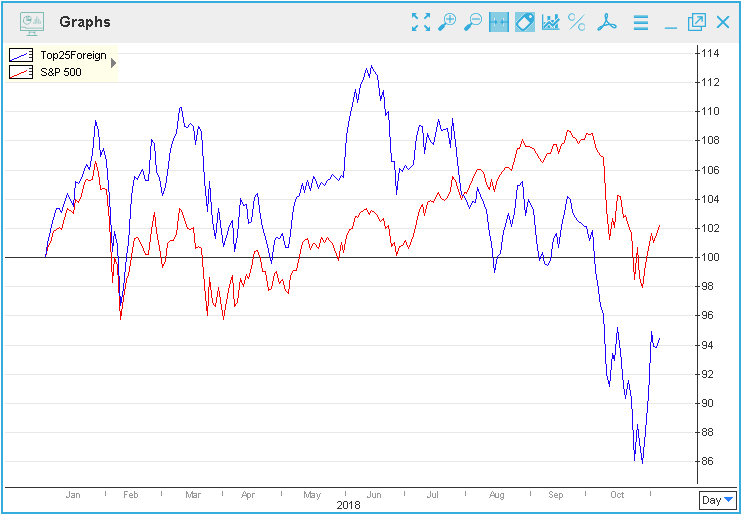 Economatica is an online investment research platform designed to facilitate deep fundamental and quantitative analysis. Asset managers, analysts, and other investment professionals have used Economatica for more than 30 years to research securities, identify opportunities, and make better investment decisions. To learn more please contact us.