The Winners of 2018
In this edition of Value Reports we identify and examine the Top 10 Winners of 2018, ranked by the highest returns and the biggest gains in market capitalization
Economatica discovered nearly 500 stocks which traded, on average, over $100 million dollars per day in 2018. We then ranked this impressive group of stocks by the highest returns to identify the Top 10 Winners in this category.
Topping our returns table is Twilio, the cloud software company, which rewarded shareholders with a return of 278.39% in 2018. Trade Desk took second place, producing a 153.79% return. Etsy placed third in our Top 10, generating a 132.62% return last year. The manufacturing sector, when considered broadly, dominated our Top 10 Winners for the year with 5 high performing stocks.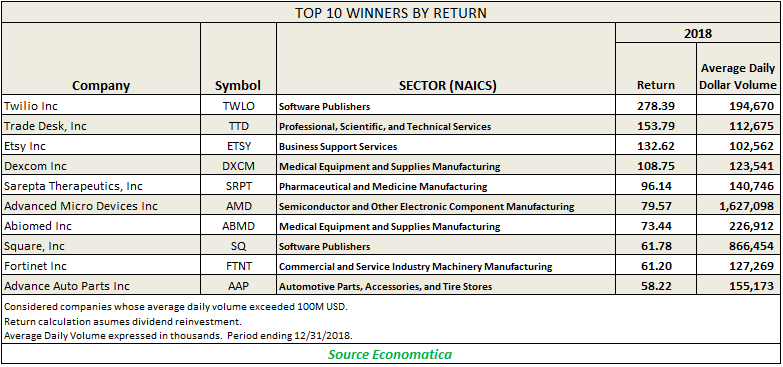 We also used the Economatica system to identify the Top 10 Winners by market cap among this group of 500 highly traded stocks, those stocks whose average daily volume exceeded $100 million dollars.
Once again, the manufacturing sector dominates our Top 10 with 4 stocks.
Also taking the top spot on this list is Twilio which saw an increase of 302.09% in market cap last year. Trade Desk increased its market cap significantly as well, increasing 167.19%. Etsy took third place again in this category, whose market cap grew 130.2% in 2018.
The stocks which had the biggest gain in market cap appear on the table below.

As important as high returns and growth in market cap are for the purposes of recognizing 2018's top performers is noticing which stocks appear on both Top 10 Winners lists. 8 stocks managed to perform well in both categories. The 8 stocks which had the highest returns and the biggest gain in market cap are Twilio, Trade Desk, Etsy, Dexcom, Sarepta Therapeutics, Advanced Micro Devices, Abiomed, and Square.
The Economatica system offers a range of sophisticated analytic tools and financial data on an easy to use online research platform that empowers asset managers, analysts, and other investment professionals who conduct fundamental and quantitative analysis. Ask us for a free 14-day trial today and learn how to make your own observations.